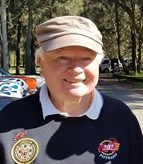 Hello from your President Kerry Benson
m: 0409 860 001
e: pmeapresident2020@gmail.com
Hi to all,
The year 2021 has been trying for many reasons but we have made progress despite the dreaded Covid 19 virus. We modified our meetings and events to comply with unwelcome conditions and still managed to remain healthy and enjoy ourselves. Our precautions have kept us safe and member compliance has made it easier for our organisers and much appreciated by all concerned. Our membership is now back up to 410.
We welcome three important and very capable people to our leadership team, Bob Forbes, Kath Hunter and Linda Upton.
Bob Forbes (member 689) has accepted the role of Club patron and is a true Pittwater local, businessman, family man and exceptional racing driver and administrator – a true enthusiast! His wife Joyce is a generous woman – brave enough to lend her Cortina for him to race in early days. Bob takes over from Adrian Stanford – ex-president for 12 years who recently passed way.
The website has benefited all who use it and it is our main method of communication now. We welcome Kath Hunter, (member 704) as our new Communications Officer to ease the load on Treasurer Graeme who initiated the renewal process. Kath is a long term enthusiastic member with technology expertise and her Starion is an award winning car.
Club regalia is now administered by the effervescent Linda Upton (member 1077) who has embraced the club ethos of fun and contributes to the "esprit du corps" regularly at events. Look forward to an interesting interview next year. Say no more now!
At our Christmas luncheon on Sunday 12 Dec we have 105 people attending. It is great to see so many spouses enjoying the camaraderie of the day. Our partners are a valued part of our club. Dress code is good casual – elegant as you like!
PARKING ARRANGEMENTS
Ring Kerry if you have any problems on 0409 860 001.
Elderly guests can be dropped at reception.
Parking available on top car park (as you enter gates, ramp to the right), OR, Crystal Bay car park (One street back from Mitala & walk upstairs to club). After leaving the car park, turn to the left towards the club and enter the gate – follow the directions.
Buzz reception to open gates if closed.
Club entry requires the usual QR code on phone, evidence of double vaccination and ID such as a drivers licence.
**You should mention at reception that you are attending the PMEA function to avoid sign in process for locals**
Protocols to follow
Masks required inside except when eating or drinking – keep a glass in hand! But keep your mask handy. No masks required on balcony upstairs – it is outdoors!
11am Pre lunch drinks on the Terrace for us – outside deck area – no masks required outside!
12 noon – 12.15pm Move upstairs to the Pittwater room – seated by 12.15 please
12.15 – 12.30 Intro and video – life and times of Bob Forbes
12.30 – 1.30 Approx – lunch served
1.45 – 2.00 Special video – David Rundle's 70s adventure motorcycle ride London – India
After lunch you are free to wander at will – keep masks for indoor use.
Main menu (alternate drop)
Chicken and turkey rolled in pancetta, sweet potato puree, green beans, carrot, sage apricot stuffing and jus
Pan roast mulloway fillet, asparagus and spring pea risotto, snowpea tendrils, lemon butter sauce
Dessert (alternate drop)
Christmas pudding, brandy custard, vanilla ice cream summer berries.
Iced lemon soufflé, lemon curd, shortbread biscuit, raspberry gel, fresh raspberries.
Non lunching members can also attend the RPAYC to socialise , admire the vehicle display and watch the video presentations. You need to do the usual to sign in. Bisto and bar are open on ground level.
Cars will be on display from 11am – vehicles ranging from Fiat 500 to Ferrari Testarossa and the green eyed monster Falcon race car driven by Craig Lowndes in 1991.
Triumph Herald – Rose Fuller
Mini Moke – Linda Upton
MG Midget – Cathy Barber
Racing Falcon – Bob Forbes
Ferrari Testarossa – Bob Forbes
BMW E30 M3 – Bob Forbes
Mini Cooper S – Barry Ahearn
VW Kombi – Bob Duke Jonge
Fiat 500 – Keith Gowenlock
Citroen 2CV – Hakan Holm
Ford Mercury – Henry Kalazich
Austin Healey – David Rundle
Jaguar XJ6 – Stuart Gebbie
Austin Healey – John Sherman
Regards and happy motoring,
President Kerry Benson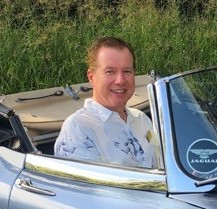 Events Update from your Vice President David Cawthorn
m: 0413 998 971
e: vicepresidentpmea@gmail.com
As we conclude another year affected by further Covid lockdowns and Event disruptions, we are fortunate to have had some great outings in recent times, concluding with the Big Finale this Sunday, the 2021 PMEA Xmas Party at the fabulous Royal Prince Alfred Yacht Club. For those not attending, I'm sure our fantastic videographer John Kaye will capture the moments to show at a 2022 meeting.
Over the summer break (is it really summer yet?!!), I will be working on planning our 2022 Event Calendar with some new locations and regular favourites, as well as a 3-4 days away country NSW trip via the backroads where possible. So be sure to keep an eye out for regular website updates.
NEXT EVENTS
Following our Xmas party, our last Event for 2021 will be our mid-month Brunch Run next Wednesday 15th December to the hip Rosebud Café at Castle Cove. So come have a chat, coffee and bring your old wheels. Management will have under shelter outdoor tables set up for us, so we'll be able to keep an eye on our old classics.
Note: later departure time at 10.00am from Kitchener Park Mona Vale.
Additional pick up: *Wakehurst Parkway: additional pick up point for those on the lower beaches, Dreadnought Rd Oxford Falls (western side of Wakehurst Parkway). We will watch for the cars to go past and then catch up. Departure time 10.15 from location.
Love to see some new faces on these runs in addition to the regulars. It's a chance to go for a leisurely drive and give your motor a decent run.
UPCOMING EVENTS FOR JANUARY 2022
Wednesday 12th January: Mid-month Brunch Run, Coal Loader Cafe at Waverton
It's located at the Centre of Sustainability in the former mechanics workshop, a heritage sandstone building. The cafe enjoys magnificent water views overlooking Balls Head Bay and Berry Island. Plenty of street parking mid week.
Sunday 16th January: PMEA club BBQ at McCarrs Creek
We kick off our Sunday Events with another PMEA club BBQ at McCarrs Creek, this time for motorbikes and american vehicles.
Sunday 30th January: Wakehurst Golf Club café at Seaforth
Another visit to an old favourite, the Wakehurst Golf Club café at Seaforth. The café has wonderful district views overlooking the golf course. Large undercover deck with seating outside, as well as inside and bonus of plenty of parking.
DON'T FORGET
IF you can't attend an event after you have booked, please let us know! Preferably cancel via the website, or if you have difficulty, contact me directly.
ALSO, members have asked if they book an Event, and it is rescheduled, do they need to book again?
Answer: YES, as you may not be able to attend the new rescheduled date, so you need to book it again.
Keep those wheels turning!!
David Cawthorn
Vice President and Events