Hello to all,
I write this with some difficulty.
President retirement – it is time to let go. There are other competent administrators in the club who are now capable of taking the club forward. I need more time at home and less stress in my life.
I joined the PMEA in 2014 after 20 yrs in executive roles including licking stamps in the Ballina District Vehicle Restorers' Club and received a Life membership award.
For four years, 2016 - 2019 I was Vice Pres & Events organiser of PMEA and 2019 – present I served as president. Club membership has doubled in that time. I initiated the move from the humble Mona Vale Guides hall in Aug 2019 to our current luxury room and bar facilities at RMYC. We battled covid 19 since then with many varied circumstances to survive.
I have been the PMEA organiser of the RMYC Unique Vehicle Display since 2016.
I initiated the McCarrs Ck bbqs in 2016 - 4x pa & appreciated assistance from all – a great club effort.
Co shared PMEA member of the year with Clive Atkinson in 2017 after initiating the use of laptop and data projector at meetings.
Introduced John Kaye to do our video presentations – now a great feature of our meetings.
Co organised our fund raising benefit for Alastair Browne in this time of need.
I have co organised our Christmas dinners for several yrs now, following the lead of the honourable Neil Freeman.
This last year I have negotiated new positions with Bob Forbes, Club Patron, Linda Upton, Regalia and Kath Hunter, Web admin.
I like to express my appreciation to a talented committee and an enthusiastic membership without which none of this would have been possible. Willing volunteers have excelled themselves – too many to name and great friendships to endure.
I will look on from the backbenches.
There is only 1 meeting until our AGM. We have 438 members now.
June 29: General meeting
July 6: Meeting - Closure committee nominations
July 13: Annual General Meeting 7pm/ Gen meeting/ Supper
Membership - NB Dave Coupland is also retiring after 6 years as Membership secretary and committee member. We need a replacement with some spreadsheet skill and ability to deal with new membership applicants. Dave has established a spreadsheet template which simply requires entries – all columns and rows are sorted. Dave is happy to provide tuition and assistance. The job involves attendance at general meetings and 4 or 5 committee meetings pa.
Nominees for committee positions should contact Secretary Gavin Rea – email secretarypmea@outlook.com.au
We anticipate the usual good attendance at our AGM to pay tribute to Life Members, Members of the year and Michael Andrews award winners. Note the varied time of 7pm – 8pm for those wishing to watch State of Origin in the bar with PMEA drinks tab, supper and multiple tv screens. Others can enjoy the casual ambiance with fellow enthusiasts.
Regards,
Kerry Benson - President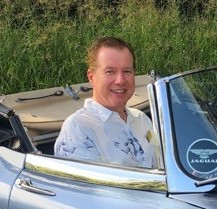 Events Update from your Vice President David Cawthorn
m: 0413 998 971
e: vicepresidentpmea@gmail.com
At the upcoming AGM on Wednesday, 13th July, I will be presenting The Michael Andrews Memorial Trophy 2021/2022 Awards for best attendances at PMEA Events. There is only a few more Events until 30th June, and until these are concluded, I cannot order the winner Trophy, as the point scoring is so close! For this year and ongoing years, prizes will be awarded to the winner, as well as 2nd and 3rd place awards. So please make sure that you always list your name on the attendance sheet at every fortnightly meeting and run. Bonus points awarded for attending in your classic car or bike (DO NOT list just because you own one!!).
Please join us on AGM night Wednesday, 13th July at RMYC starting at the special time of 7pm, when all PMEA yearly awards will be presented to the winners.
On another note, over the last 2 years I have been organising Mid-Month Brunch Runs, roughly on the middle Wednesday of each month. Sadly these have not been well patronised. I would have anticipated that with over 435 members, it would be a no-brainer for another chance to get out your classic car for a club drive and catch up.
It's enormous work to come up with a variety of venues for club Events, book each one, compile the spiel to go onto the website, then construct the web page for that Event with photos, and finally upload the Event to our PMEA website (yes I do that too).
Therefore, I am retiring our Mid-Month Brunch Runs with immediate effect.
UPCOMING PMEA EVENTS
Please refer to each event link for full details.
THIS SUNDAY 19th June: Frenchy's Café, Georges Heights (Mosman)
This heritage building is the heart of our bustling little French cafe and has a beautiful outdoor setting. Nestled in the heritage landscape of Headland park, Mosman. Surrounded by artist studios and ocean views, Frenchy's is a bush walk away from popular landmarks including Balmoral, Chowder Bay and Taronga Zoo.
The free limited parking at the nearby carpark. Actual address is 3 Read Place Mosman. Advance booking under PMEA for approx 20 people. Please RSVP ASAP.
Sunday 3rd July: Ball Boy Café, Balgowlah Heights
This very new cafe is located in leafy Balgowlah Heights near the tennis courts. It was only opened in 2021 and sits below some new apartments that were built on the site of an old service station. It's all open air environment, so sound acoustics will be good.
We have from 8.30am until 10am allocated and reserved ONLY for PMEA, so please don't dilly dally and order as soon as you get there to facilitate kitchen flow! Please RSVP ASAP!
Seating is LIMITED and all undercover, so you will definitely need to adhere to booking your space early VIA RSVP on our website ASAP or miss out! You will NOT be just able to turn up, due to the strictly limited capacity of 32 persons. There is plenty of parking in the street.
Sunday 17th July: All French Car Day, Silverwater Park, Silverwater
PMEA will celebrate French Bastille Day and visit the annual All French Car Day at Silverwater Park. Club members are invited to display their French vehicles.
Come and see the huge variety of Citroen, Peugeot, Renault, Alpine and Simca vehicles on display. Vehicles on show from veteran to modern. It's a nice location with close by walkway along the Parramatta River. BYO breakfast & chairs.
Plenty of free parking either side of Silverwater Bridge off Clyde St.
Sunday 14th August: Shannon's Classic, Sydney Motorsport Park, Eastern Creek Raceway
Largest display of classic cars in NSW. Up to 2,000 vehicles attend. You also get a chance to drive around the circuit as a group. This is a highlight on most club's calendars every year.
If you are going as a spectator, you DON'T need to RSVP on the PMEA website.
Should you with to attend, PMEA purchased 25 tickets for the 2021 event, these are also now valid for the 2022 event. For those 11 members that have paid already for last year, please ensure that you RSVP via our website if you are going in 2022, as we are currently only showing that 7 members are going. Tickets will be handed out closer to the event.
NO further tickets will be available once our allocation has been exhausted, so don't delay, get in quickly if you want to attend.
IMPORTANT SPECIAL NOTES FOR CONCOURS ENTRANTS
Rules state that to enter the Concours, you will need to complete a special form (2021 form is OK), and email directly to the CMC organiser Terry Bebbington at terry@bebco.com.au
This form is available on our webpage for this Event. ONLY 1 vehicle per decade per club permitted. Full details on the entry form.
The cut-off date for Concours entries is Thursday, 14th July. No additional fee is payable.
Mid-year over winter is a busy time for car clubs and events in general, don't forget to check them all out on Classic Car Gurus.
Don't forget
IF you can't attend an event after you have booked, please let us know! Preferably cancel via the website, (there is a 'Can't Go' link, just click on it and complete, it's just below the orange RSVP Button on each Event page). If you have difficulty, contact me directly.
Businesses rely on knowing numbers in advance for large groups for staffing and catering purposes.
IF you have difficulty booking online and wish to attend an Event, please contact me and I will book you in.
PMEA also have now available newly designed FREE windscreen information sheets for members to display on their vehicles. If you would like one for your vehicle/s, please contact me. They will be available at the next meeting and run. And of course, these go well with our PMEA windscreen banners, which are available for the bargain price of $25. Please contact our regalia officer Linda Upton to purchase.
Keep those wheels turning!!
David Cawthorn
Vice President and Events