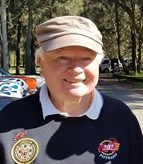 Hello from your President Kerry Benson
m: 0409 860 001
e: pmeapresident2020@gmail.com
Hi to all,
Our next general meetings will be on Wednesday 9th March at 7.30pm at RMYC in the Top Deck room. Meetings thereafter will return to our "usual" Tuesday nights
Thanks to all for persevering with the unwelcome but necessary covid adjustments which were forcing us and RMYC to chop and change our routines. However, we have functioned, remained safe and healthy because members have been cooperative and understanding.
Our Wakefield Park Race Day has been rescheduled from 10th March to Thursday 30th June/Friday 1st July due to unavailability of one racing instructor and one Mercedes SLS race car. Bidding is for members only as agreed at our last general meeting and can begin at the 5th April meeting and finish at the 17th May meeting at 8pm. Bidding recommences from $0. Click HERE for further information.
Motion for voting at General Meeting on 9th March 2022.
Please refer to Club Procedures on web. Click HERE
Background:
The existing entitlement since July 2018 of a polo shirt being included in our joining fee for new members after 3 months of satisfactory attendance at club events has proved difficult to administer and only few members have taken up the offer. Purchase of club regalia is a personal matter and while we advocate the wearing of club regalia, we recognise that it is a voluntary matter for each member to decide.
Explanation:
In general, PMEA is bound legally by our Constitution (i.e., Model Const 2009 Dept Fair Trading).
Club procedures are like by laws and set out some conditions of membership and relate to internal management of our club. Where rights of members, conditions of membership etc. are involved, proposed changes need to be approved by 50% of members at a general meeting and the Club Procedures updated.
The Motion:
"The committee seeks general endorsement to delete the following (Item 3f ) in the Membership Section of our Club Procedures and from the Membership Application form"
"3f. New members are entitled to request Club regalia (polo and name badge) after three months, subject to active participation during that period."
Regalia is also under review with a new supplier and Linda Upton as our new regalia officer. A new range will be on offer in the near future and the current style will be available until then.
Regards and happy motoring,
President Kerry Benson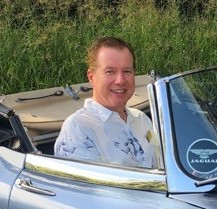 Events Update from your Vice President David Cawthorn
m: 0413 998 971
e: vicepresidentpmea@gmail.com
Our last two Events were well attended, with 23 members enjoying the historic Café Patina at Wahroonga run. It was a little noisy inside and the conversations were many and varied, but a great time was had by all. A few convertibles attended on a gloriously sunny Sunday.

The February mid-month Brunch Run to The Chocolate Factory Café at Gosford was popular, with 16 people attending, including local friends of David and Margaret Webster who turned up in a lovely 1923 Rolls Royce. Still purring along after 99 years!

I really enjoyed the twisties there and back via the Old Pacific Highway in my 1990 Peugeot 205 Gti, an ideal road made for nimble pocket rockets ☺️!

Be sure NOT to miss our PMEA meeting on Tuesday, 22nd March. I have arranged a special presentation and talk from Darren, proprietor of Peninsula Sports Car Services at Brookvale, 'The Workshop for Car Enthusiasts'.

Darren and George are the new owners of the business, previous owner was Geoff Morse, who is well known amongst the classic car fraternity. Questions from the floor will be taken following the talk.

In the meantime, Click HERE to check out their website, it's awesome!
UPCOMING EVENTS
Sunday 27th February-Café Sasanqua, Glenorie
Unfortunately, this Sundays Run to Glenorie has had been postponed due to another predicted deluge. Instead, we will default to the Royal Prince Alfred Yacht Club, 16 Mitala St Newport, from 8am for breakfast. Please note, you can park only in the upper car park on the top level. The below underground level is for RPAYC members only.
If you live inside 5km of the club, you will be required to be signed in by Kerry Benson, or another attending PMEA member of this club.
Sunday 13th March-BYO Picnic at Roseville Park
We are trying something new with our first PMEA BYO picnic, in Roseville Park, surrounding the historic 'The Firs" cottage. Surely the rain will have stopped by then.
'The Kiosk' at the side of the Sous Le Soleil restaurant serves takeaway coffee and meals during the mornings. So, BYO picnic supplies, if you don't want to bring your own coffee, you can purchase at the kiosk.
Roseville Park has plenty of free parking for our classic vehicles and there are plenty of trees to provide shade. The grounds are very extensive, so plenty of space to spread out if required.
Wednesday 16th March-Mid Month Brunch Run, The Incinerator Café, Willoughby
Again, we visit this popular café, housed in the beautiful and iconic Willoughby Incinerator building, designed by Walter Burley Griffin in the 1930s. Plenty of outside and inside tables with parking directly outside and in surrounding streets.
Thursday 7th April-Sunday 10th April-Southern Highlands Autumn Discovery Tour
If you are still thinking about it, DON'T DELAY and book in ASAP, as we now have 46 participants and only a few rooms are left. Finalisation of this tour is in late March. Click HERE for more information.
Don't Forget
IF you can't attend an event after you have booked, please let us know! Preferably cancel via the website, or if you have difficulty, contact me directly. Businesses rely on knowing numbers in advance for large groups for staffing and catering purposes.
IF you have difficulty booking online and wish to attend an Event, please contact me and I will book you in.
PMEA also have now available newly designed FREE windscreen information sheets for members to display on their vehicles. If you would like one for your vehicle/s, please contact me. They will be available at the next meeting and run.
Keep those wheels turning!!
David Cawthorn
Vice President and Events